ALL CHAINS,HOOKS,ROOFS MUST GO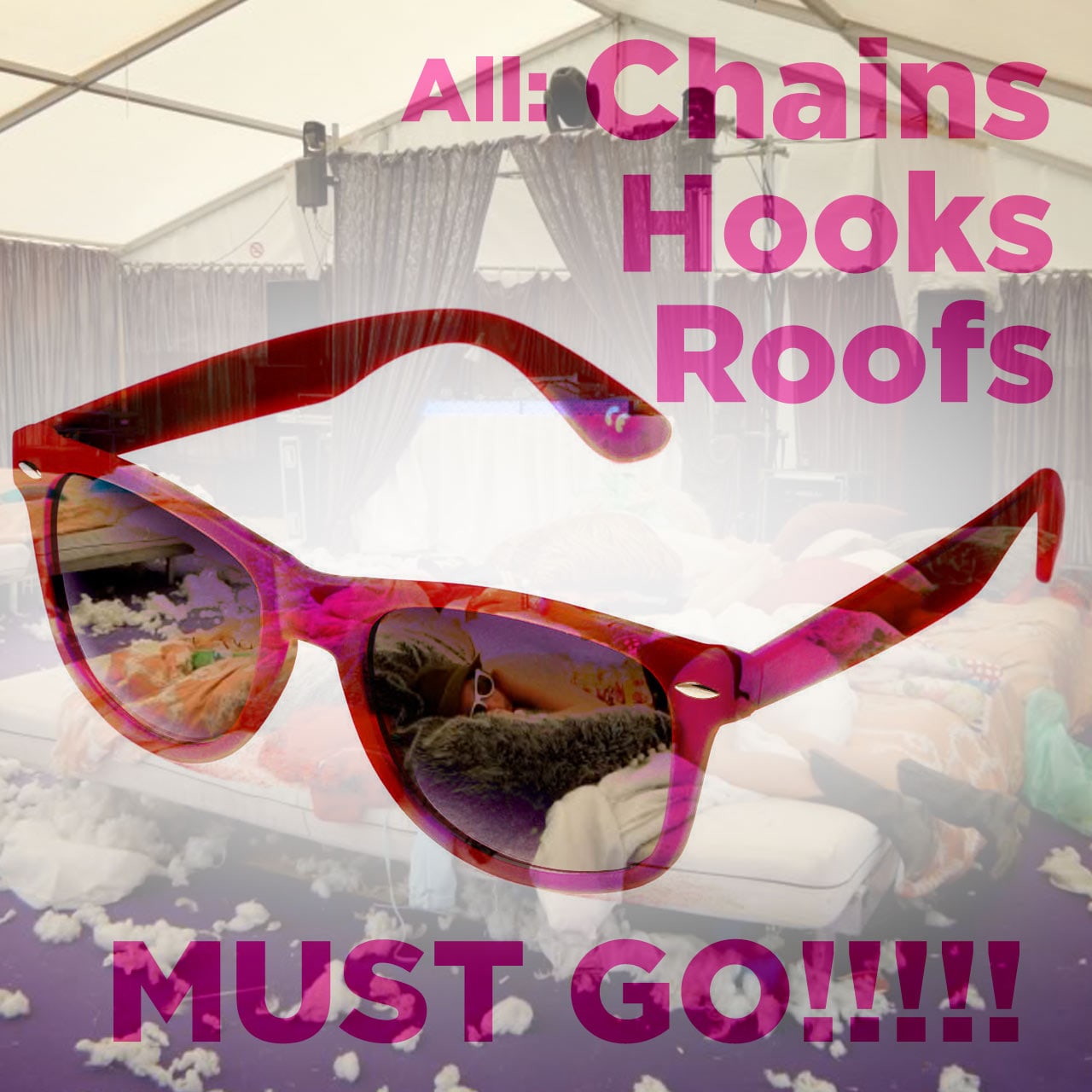 Episode 135. mp3. Released March 10, 2013.
HOLY donkey crap.
All the chains have been disassembled and the hooks have been exported to Tunisia and sold off for, like, pennies per pound. I poured gasoline all over all of the roofs and you are holding the match. The match is the download button for this mix.
You have been warned.
This mix is broken into 3 nondistinct parts.
Rap. Some of this is what might be called 'trap rap' which is rap whose production has some trappy characteristics. See below.
Trap. aka music that will make your neighbours hate you and may cause one or two of your buttocks to involuntarily quake. Trap music is a genre that replaces vocal melodies with screwed up vocal samples and instrumentation with obnoxiously loud, frantic drum machine beats. It is the worst. Thankfully the songs are generally pretty short.
2.5 Garage/2step/UK Funky/African rhythms that are like Trap's less annoying cousin, and generally more funky and less directly right in your face. There's even some Cuban piano dubstep kinda bullshit in there.
House. Or techno. Or whatever. I don't fucking care. Still no verse/chorus/vocal normalcy, but some of this is actually downright cheery and sounds like spring has sprung (it has, fwiw). If you make it this far, congrats… that's fairly stellar of you.

Kendrick Lamar / Look Out for Detox (Freestyle) (2010)
Ace Hood / December 31st / Starvation II (2013)
Kanye West / Mercy (feat. Big Sean, Pusha T & 2 Chainz) / Mercy (2012)
A$AP Rocky / Goldie / Long.Live.A$AP (2013)
Hudson Mohawke / Overnight / Polyfolk Dance EP (2009)
Flosstradamus / UNDERGR☢UND ANTHEM (2012)
Baauer / Harlem Shake (2012)
TNGHT / Higher Ground / TNGHT EP (2012)
Melé / Gold Casio / Melé Vanelé Vol 1 (2012)
ƱZ x CRNKN / Booty 2 The Ground / Balltrap Muzic: Vol. 1 (2013)
BRANKO / Going In Hard (feat. Dominique Young Unique) (2012)
His Majesty Andre / Dry Tool (Elisa Bee "Crazy Sisters" Bootleg) (2012)
Okmalumkoolkat / Boomslang / (2010)
LV / Nothing Like Us (feat. Ruffest) / Sebenza (2012)
Randomer / Zabu / Be Electric (2010)
Bookworms / African Rhythms / Love Triangles (2012)
Mala / Mulata / Mala in Cuba (2012)
MMM / MMM Meets Tshetsha Boys / Shangaan Shake (2012)
Kidnap Kid / Vehl / Alphaville EP (2012)
Julio Bashmore / Au Seve (2012)
Andrés / New For U (2012)
Wiley / Heatwave (feat. Ms D) (DEVolution Extended Mix) (2012)
Anthony "Shake" Shakir / Plugged In / Frictionalism (2009)
Daphni / Yes, I Know / Jiaolong (2012)
Pepe Deluxé / A Night and a Day / Queen of the Wave (2012)