THE HOT BUTTER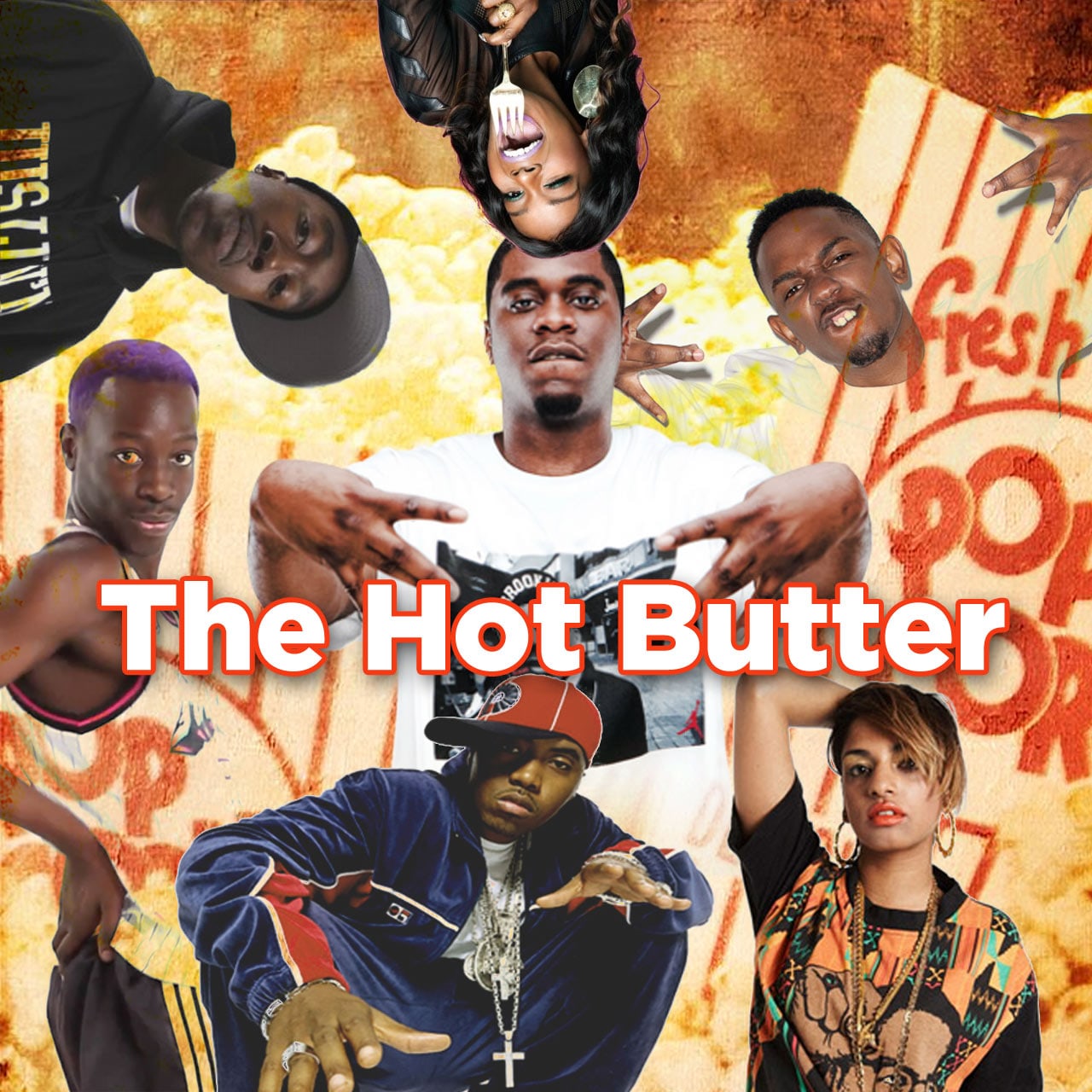 Episode 132. mp3. Released October 29, 2012.
Hip to the hop to the women spitting fire, to the grimy indie NY, hi concept trippin', waxing political over smooth soulful grooves, harsh or melodic, driving hard and fast, drug dealing and inhaling, jailing, banging bangers and introspective next level mind bending horny bullishittt. Sexy, dangerous and sometimes weird.
And you don't stop.
And some idiot said that hip hop is dead. And some fools think all hip hop sounds the same. For your listening pleasure: 28 examples of why this game is just starting.
Err. NSFW.
Mr OIZO / TOODOO (feat. Carmen Castro) / STADE 3 (2012)
Azealia Banks / 212 (feat. Lazy Jay) (2012)
Angel Haze / Werkin' Girls / Reservation (2012)
M.I.A. / Bad Girls / Bad Girls Single (2012)
Kendrick Lamar / Swimming Pools (Drank) / good kid, m.A.A.d. city (2012)
Missy Elliott / Triple Threat (with Timbaland) (2012)
Freddie Gibbs / Kush Cloud (feat. Krayzie Bone & SpaceGhostPurrp) / Baby Face Killa (2012)
Nas / Loco-Motive (feat. Large Professor) / Life Is Good (2012)
Brother Ali / Not A Day Goes By / Not A Day Goes By (2012)
Killer Mike / Big Beast (feat. Bun B, T.I., Trouble) / R.A.P. Music (2012)
Money Making Jam Boys / Tear It Down / Money Making Jam Boys (2011)
Action Bronson / Steve Wynn / Blue Chips (2012)
Macklemore & Ryan Lewis / Thrift Shop (feat. Wanz) / The Heist (2012)
Clipse / Young Boy / Lord Willin' (2002)
Jay Electronica / Exhibit A (Transformations) / Best Of So Far (2010)
Raekwon / Penitentiary (feat. Ghostface Killah) / Only Built 4 Cuban Linx… Pt. II (2009)
Le1f / Wut (5kinAndBone5) / Dark York (2012)
Blu / Doin' Nothin' (Feat. U-God) / N O Y O R K . (2011)
Cadence Weapon / 88 / (2012)
Joey Bada$$ / Killuminati (Feat. Capital STEEZ) / 1999 (2012)
Edan / Making Planets (feat. Mr. Lif) / Beauty and the Beat (2005)
Saukrates / Remember Me / Season One (2012)
Shad / new Don / Melancholy and the Infinite Shadness (2012)
Strong Arm Steady / Best of Times (feat. Phonte) / The Search For Stoney Jackson (2010)
Kanye West / White Dress / Man With The Iron Fists Soundtrack (2012)
Big K.R.I.T. / Dreamin' / Return Of 4Eva (2011)
Little Brother / The Listening / The Listening (2002)
Main Attrakionz / Do It For The Bay (feat. DaVinci) / Bossalinis & Fooliyones (2012)